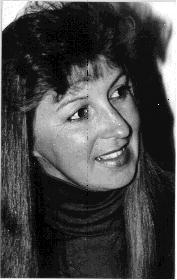 ©

This photograph was taken in 1993 as part of a series of self portraits. The early nineties were an experimental phase in my artistic pursuits...my skills in photography were evolving, and a love of the medium aspired into a full exploration of various techniques and experiments. Photography is very 'forgiving' in that it can be manipulated, and produced to suit the artist, and my wish is to be able to progress my technical skills and continue to do what I enjoy.

'self portrait-split image' this is one of my experimental images.©
Although my love for photography is intense, so too, is my love of painting. The following photograph was taken in 1993, and published in the St Mary's Standard newspaper.. The photo is of myself and one of my paintings.
©1993
It is a surrealist figure painting, of a female nude asleep and transcending through the clouds...with autumn leaves entering the edges of the painting providing the notion of earth..This was part of a sequential project, dealing with various styles of art. I have consequently moved on from this type of 'picturesque' imagery, and have found my 'niche' in abstract art.
You can view recent works via this new LINK: NEW ART..2002